Welcome to part 2 of our hunt to find the most famous film locations in the world. In this part we uncover a few famous animals ranging from a voracious shark to intelligent apes and creatures that are quite literally out of this world….
Jaws (1975) – Steven Spielberg – Martha's Vineyard, Massachusetts, USA
Troubled production, over-budget and past schedule, Jaws was a production that hardly enjoyed smooth sailing. Spielberg's horror/thriller chose the perfect idyllic and unassuming location to unleash this monster upon. It disturbed the calm and carefree routine lifestyle associated with Martha's Vineyard. Contrary to logic, a film about a killer shark proved amazing for tourism. Combining this then new-found fame and awareness with fabulous summer weather and splendid sandy beaches, Martha's Vineyard has become a popular destination for rest and relaxation holidays.
Avatar (2009) – James Cameron – Hamakua Coast/Kaua'i, Hawaii, USA
With all of the technological 'enhancements' used by James Cameron in 2009's Avatar, it may be easy to lose sight of the striking Hawaiian landscapes. While Hamakua was just one of several stunning locations during production, it may be one of the most prominent. Jake Sully and Neytiri's aerial acrobatics aboard the banshee took this scenery as its stunning backdrop. It is probably quite unlikely that you'll encounter any of the Na'vi unfortunately. But the realities of the Hamakua Coast will not disappoint; with some of the most spectacular coastlines on the planet to feast on.
Planet of the Apes (1968) – Franklin D. Schaffner –  Malibu, California, USA
With various incarnations since its original French source material publication in 1962, the Planet of the Apes franchise has always been a staple of pop-culture. However, for first-time viewers who have not been spoiled, the iconic scene will always be the finale, containing the film's masterful reveal, set along the shores of the Ape planet. Malibu is home to numerous beaches and parks as well as being a haven for surfers, but also houses a rich variety of more cultured attractions. Westward Beach, between Zuma Beach and Point Dume, was the shooting location for this epic conclusion with its crisp sands and desolate cliffs portraying the lead character's despair at the final revelation. One of the all-time great scenes in cinema, this is a must-visit.
Indiana Jones and the Last Crusade (1989) – Steven Spielberg – Petra, Jordan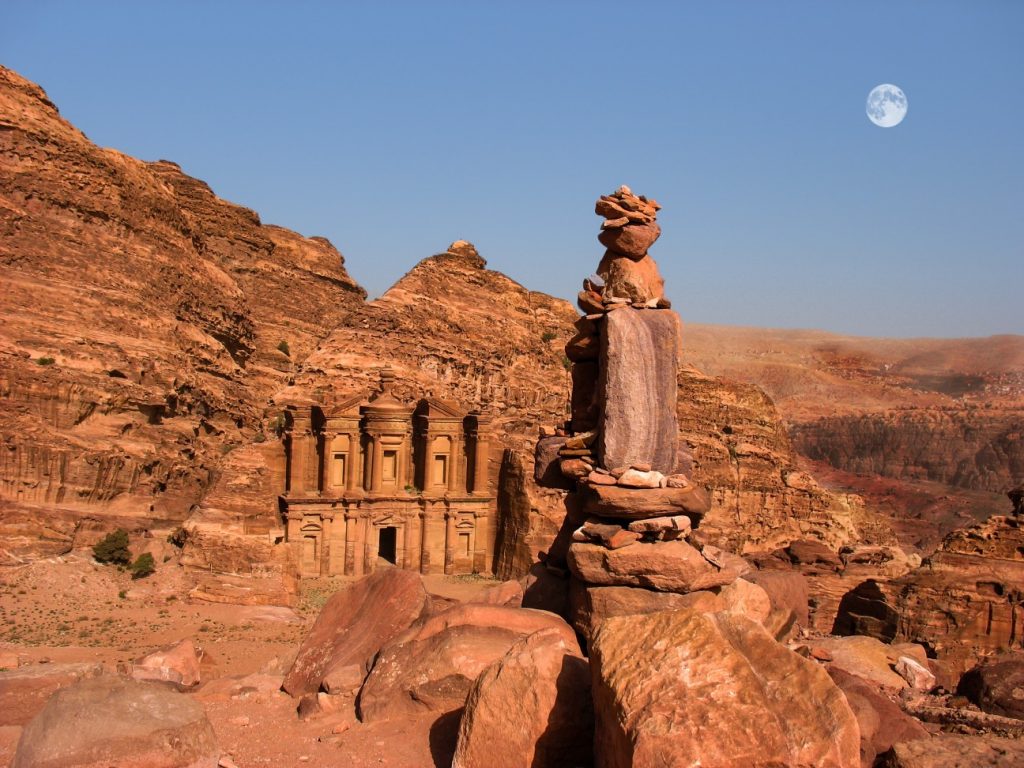 Masquerading as the "Canyon of the Crescent Moon" in Alexandretta, we revisit Jordan and the truly fantastic Al Khazneh. One of the most striking and elaborately constructed temples in history, it plays host to the final resting place of the Holy Grail and its guardian Knight. Indiana Jones's final tests in The Last Crusade occur here. Whilst the interior shots were filmed on a soundstage, the exterior is the authentic package. It was originally built as a mausoleum and crypt in the 1st century AD. Since then, the temple has seen an increase in its tourism with this being the main source of Jordan's income. Truly one of the great feats of human manufacturing, this stunningly beautiful temple is a worthy spectacle. So much so, that it is recognised with UNESCO World Heritage Site status.